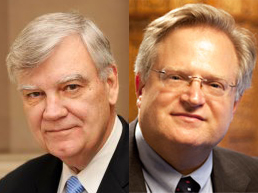 During the afternoon session of the 25th Annual
Nobel Peace Prize Forum
's Business Day, Dean and Professor
Eric Schwartz
of the Humphrey School of Public Affairs, with Former Dean and Professor
Brian Atwood
, responded to critical issues of international relations in a discussion titled Development, Humanitarianism, and the Power of Ideas. The hour-long discussion was moderated by Tom Weber of MPR News, and featured the professors' responses to questions penned by a full house at Ted Mann Concert Hall, as well as viewers watching the Forum's live stream online.
The session represented the first time the Nobel Peace Prize Forum had hosted a panel that was guided entirely by the audience, whose interests ranged from the professors' thoughts on the ideas presented earlier by Muhammad Yunus, to issues of corruption in countries receiving foreign aid, to international responses to disasters, crises, and pressures, such as those related to the current tensions involving North Korea.
When asked what is necessary for development projects to be effective, Professor Atwood cited a theme that has become more and more apparent through research and evaluation: the countries receiving funds for development, especially post-crisis, must feel that they possess full ownership of the efforts; if the recipients do not feel like they have a "stake in the game," the relevant development projects will not maintain enough interest and, therefore, will eventually fall short of their intended outcome. Both Atwood and Dean Schwartz also strongly stated their disapproval of "tied aid," or development funding that can only be employed in compliance with specific conditions and stipulations. This, according to Atwood, was a significant obstacle to the aforementioned sense of ownership that makes for successful development projects.
Schwartz and Atwood also spent much of their time dispelling skepticism as to the efficacy of development programs, often referring to specific examples from their experiences in USAID and the State Department. There are significant accountability mechanisms in place that track the use of development funding, assured the dean, and, although there is room for improvement in this area, foreign development aid is an important tool in efforts of poverty alleviation, crisis resolution, and peacemaking. Both professors asserted that providing peacetime development monies is significantly more effective and efficient than recovery funding provided after disasters and other crises. According to Atwood, the distinction between humanitarian and development aid is an important one: humanitarian provisions help people, while development financing helps people to help themselves. The timeline for aid following international emergencies, such as wars or natural catastrophes like the 2011 tsunami that had severe ramifications in Japan and throughout the Pacific, follows a progression from humanitarian aid immediately after the crisis to later, preventative development aid, added Schwartz.
The final question of the discussion best captured the sentiment of the Forum: "How do we change the world?" Encouraged by the large number of students in attendance, Eric P. Schwartz stressed the significance of embracing educational opportunities and tempering them with worldly experience. The dean exhorted students to seek out and advocate for those issues for which they are most passionate. Professor Atwood highlighted the power of creative diplomacy in foreign affairs to secure and maintain international peace.
Written by Aidan Breen