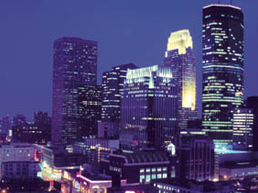 Dozens of students packed into the Social Sciences building Tuesday, February 12th for A Day of Activism, an all-day event hosted by the Institute for Global Studies. A highlight of the event was an alumni panel luncheon featuring three Global Studies graduates who described their life after graduation and how they obtained jobs in their field. Matt Buechner, Nora Radtke, and Desiree Guida all graduated from the University of Minnesota in 2010 with majors in Global Studies. During the luncheon they offered key advice to undergraduates who will soon be looking for jobs of their own.
Matt Buechner is the Executive Assistant for a local nonprofit called Twin Cities Diversity in Practice, whose mission is to attract, recruit, advance, and retain attorneys of color in the Twin Cities legal community. Upon graduation, Buechner went to work at a for-profit corporation. But after putting in long hours at a job he wasn't particularly passionate about, he decided to look for a position at a nonprofit. Buechner gave students advice on transitioning from a corporation to a nonprofit, and how to use experience in the for-profit industry to apply for a nonprofit job.
Nora Radtke is the Development Assistant at the Center for Victims of Torture (CVT), an international nonprofit dedicated to healing survivors of torture. She had always hoped to work for CVT. The valuable experience she gained through interning at the Human Rights Program at the University helped her get her current position at CVT. Before obtaining her position at CVT, Radtke worked for AmeriCorps. Radtke gave students an insight into what it is like working in the human rights field, and how to take advantage of opportunities on campus to help qualify you for such jobs.
Desiree Guida works on youth programs at Common Bond Communities, a nonprofit provider of affordable housing. Guida also worked for AmeriCorps before starting her current position. Her experience exemplifies how internships can lead to full time jobs.
The alumni gave great tips on getting hired in today's difficult job market. Recent graduates looking to work in the nonprofit field should start by searching for jobs on sites like the Minnesota Council of Nonprofit Job Board. Networking is also important. Buechner says, "Anyone can be a potential employer, so network and keep good contacts." He recommends joining groups like the Young Nonprofit Professionals Network, where you can meet others who have recently graduated and are in the same boat when it comes to looking for jobs or holding down an entry level position. Buechner also recommends that all graduates have a LinkedIn profile, and says that some employers won't even look at your resume if they cannot find you on that site.
Radtke explains that having experience in grant writing will give you a "one-up" when applying for nonprofit jobs. She says that going on informational interviews at prospective places of employment, and volunteering at organizations you wish to someday work for are great ways to get noticed and can help you get hired in the future. Gearing your senior research paper towards a specific area of interest in a field that you want to work in can be a way to stand out at an interview and show an organization you are serious and passionate about the work they do. Radtke focused her senior paper on human rights issues, and it helped her with her interview at CVT. She also expresses the importance of respecting and investing in funders, because you may be able to network and acquire a job through them.
Guida tells students they can use their study abroad experience to show that they are independent and able to manage themselves in different settings, skills most employers look for when hiring. She explained that you can also use your second language to network, even if you don't use it in your actual job. It could open doors for you in the future. Guida warns students to keep in mind that entry level jobs, especially in nonprofit, will consist of mundane work tasks they might not enjoy, and that they will have to learn to live on an "entry level budget." If you work hard you will be able to move up into higher, more rewarding positions.
The Global Studies degree enables graduates to apply for a broad range of jobs, and if students take advantage of all the opportunities and resources they have on campus, they should be able to find a position within their area of interest.
Written by Wren Bentley.