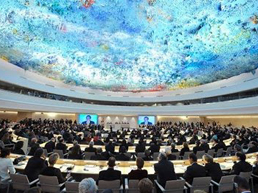 As the United States Government debates domestic policy changes to address national concerns about gun violence, students at the University of Minnesota are urging the United Nations to address the human rights violations committed with firearms. The U.S. record will be reviewed by the United Nations Human Rights Committee as part of its periodic compliance report under the International Covenant on Civil and Political Rights. The U.S. Government is scheduled to make a live appearance before the Human Rights Committee in October 2013. With this in mind, a team of University of Minnesota students, led by two professors, recently submitted a report to the U.N. Committee, raising questions on gun violence.
The report asserts that "The right to life is violated repeatedly by the U.S. government's refusal to address the misuse of firearms by private actors." The report brings to the attention of the U.N. Committee that each year in the United States, more than 30,000 people are killed through gun violence. In 2012 alone, 38 mass shootings took place, including the December 2012 killing of 20 children and 6 adults at a Connecticut elementary school. In many cases, mass assaults involve semi-automatic weapons and high-capacity magazines.
The report urges the U.N. Committee to continue its important attention to gun violence and proposes presentation of five major questions to the U.S. delegation:
1. What measures have been taken to prevent abuse with small arms and light weapons (SALW) (e.g., strengthening of background check requirements and federal assault weapons ban)?
2. How is the federal government working with state governments to prevent human rights violations with reasonable gun regulations, including screening purchasers with records of mental illness and records of domestic violence?
3. What measures are being implemented in cases of domestic violence to prevent firearm use?
4. How is the federal government addressing issues of police brutality and excessive force with firearms?
5. What steps are being taken to stop transfer of small arms and light weapons across U.S. borders to Mexico and other countries where those weapons are used to commit human rights violations?
Among the report's recommendations to decrease gun violence are universal background checks, stronger enforcement of laws prohibiting gun ownership (e.g., by persons addicted to controlled substances, with a history of mental illness, or convicted of domestic violence), elimination of loopholes allowing gun purchases online and at gun shows, and enactment of a ban on assault weapons and ammunition.
Firearms manufacture, transfer, and possession are regulated at both the federal and state levels but enforcement is primarily a state function, and gun laws vary widely among the 50 states. The federal government should collaborate with states to ensure consistent standards for gun ownership, concealed-weapon, "stand-your-ground," and other laws, the report says. "The prevalence of SALW continues to compromise the achievement of human rights in the United States," it concludes.
The report was prepared by Adjunct Professor Barbara Frey, director of the University of Minnesota Human Rights Program; Professor Jennifer Green, head of the Law School's Human Rights Litigation and International Advocacy Clinic; and Clinic students Dina Al-Shorafa ('13), Rachel Blackhurst ('14), Laura Matson ('13), Savir Punia ('14), and Thea Reilkoff ('14).