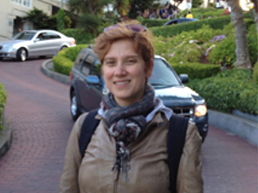 I am very happy to write in the Human Rights Program newsletter, and want to thank my colleagues for this opportunity. As a Latin American I want to highlight the work of the Program to communicate and collaborate with counterparts in the subcontinent. Below I emphasize some of the activities happening this semester.
The first one is that, Barbara Frey, Director of the Human Rights Program, is working in Mexico from January to May. She is a visiting scholar at FLACSO-Mexico, a research center in Mexico City, where she has worked closely with human rights faculty. This is possible because Barbara was awarded a scholarship from the Fulbright Foundation. During her visit she is developing research about the current characteristics of the human rights movement in Mexico, specifically its role in the 2008 reform of the criminal justice system. I believe that the findings of Barbara's study will be extremely important for understanding the dynamics of the human rights movement in Mexico today, especially since there is a lack of current research in that area. I have no doubt that the reports and articles arising from her research will be a useful reference both inside and outside of Mexico.
In Mexico, Barbara is also teaching a course about human right advocacy oriented to graduate students and human rights practitioners. The course has been very well received, and the demand exceeded all the expectations. It presents a great opportunity to share and spread the Human Rights Program's expertise in human rights advocacy.
Another example is that, during my second semester at the University of Minnesota, I am teaching a course titled "The Politics of Human Rights in Mexico," which is targeted at undergraduate and graduate students in the Global Studies and Spanish departments. The course is taught in Spanish and its main goal is to give students an understanding for local human rights dynamics.
As you may already know, the Program is also working on a collaborative project with four law schools in Medellín, Colombia to strengthen human rights clinics and develop a human rights curriculum. This interest in Colombia and Mexico shows the commitment of the Program to diverse research and action in human rights.
I have been linked with Human Rights Program for six years, and every time I arrive in the Twin Cities I feel at home. This is due to the kindness of my colleagues in the Program and also the opportunity to renew my personal commitment to the cause and knowledge of human rights.