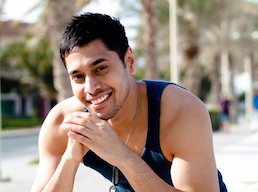 Details of Shezanne "Shez" Cassim's arrest show violations of freedom of expression and human rights.
MINNEAPOLIS (December 7, 2013)--Barbara Frey, Director of the University of Minnesota (UMN) Human Rights Program, David Weissbrodt and Kristi Rudelius-Palmer, Co-Directors of the Human Rights Center, will hold a press conference on Tuesday, December 10 at 12:00 p.m. at the University of Minnesota Law School to call on the government of the United Arab Emirates (UAE) to immediately release former U student Shezanne "Shez" Cassim from the Abu Dhabi prison in which he is being held. Cassim was arrested on April 7, 2013 in Dubai, UAE, for uploading a satirical sketch comedy video to YouTube.
Take action to support Shez by signing this online petition.
Cassim is a graduate of Woodbury High School and his family currently lives in the Twin Cities. He graduated from the University of Minnesota in 2006 and was working in Dubai for a consulting firm at the time of his arrest.
These University of Minnesota human rights leaders are deeply concerned about the unwarranted and lengthy detention of Cassim, which is a violation of his right to freedom of expression. Additionally, they are troubled by Cassim's limited access to counsel and the lack of due process for his case.
"We are shocked and perplexed by the UAE's treatment of Cassim. In the days leading up to International Human Rights Day, we call on UAE government officials to uphold its commitment to international human rights standards and release this bright young man who they have unjustly detained," said Frey.
Cassim is currently being held in a maximum-security prison in Abu Dhabi, the capital of the UAE. For posting the comedy sketch, Cassim has been accused of endangering the UAE's national security under a federal "Cyber Crimes Law."
Cassim's next hearing is scheduled for December 16.
Advocates are seeking signatures on the online petition for Shez's release, available here: http://tinyurl.com/kudjcrr