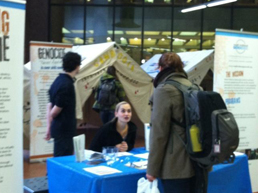 During the week of December 3rd - 7th, the Human Rights Program Student Advisory Board organized a diverse series of events with the aim of spreading knowledge of human rights issues and facilitating student engagement on campus. The events varied from a multimedia exhibit to a night of performing arts to documentary screening and presentations, and each was a huge success!
On Monday, the student advisory board worked in conjunction with the organization World Without Genocide, and set up a multimedia exhibit called "Tents of Witness: Genocide and Conflict." The exhibit featured six tents, each one narrating a different genocide in a different region of the world. The tents housed slides that depicted many aspects of each genocide, educating participants about the concept of genocide, explaining causes and consequences of genocide, and presenting action steps to prevent it. The event was headed by Christie Nicoson, who acted as a liaison between the student advisory board and World Without Genocide and made this wonderful event possible. Many students stopped as they passed by between classes, asking questions and engaging in the exhibit, and the student advisory board was thrilled to engage in discussions with other students on human rights topics.
On Tuesday evening, the board hosted a spoken word night at Mapps Coffee and Tea, where several incredibly talented performers shared their experiences in social justice issues, such as LGBT rights, homelessness, and war. Kirstin Benish led the event, organizing all of the performers and coordinating with Mapps Coffee. The student advisory board felt honored to hear such moving and thoughtful pieces, and all agreed that spoken word bears great power as a channel for speaking out and mobilizing action. From the bottom of our hearts, we would like to thank all of the performers for their courageous and knowledgeable pieces, and Mapps Coffee for supporting this event.
On Wednesday, the incredibly talented Student Advisory Board member Lauren Kim organized an insightful and very informational event on North Korea. Lauren put together a PowerPoint presentation and showed a powerful documentary on the dire human rights situation in North Korea, giving attendees a multidimensional understanding of this grave issue and shedding light on the critical need for global action to help the North Korean people.
To conclude Human Rights Week, the student advisory board hosted a film screening of the documentary Black Gold, an event that focused on labor rights in the coffee industry. Led by Anna Meteyer, the event consisted of the screening and then a discussion on the structure and role of Fair Trade in the global economy. Ceramic cups were handed out at the end of the event, and each cup was decorated with a quote from the UDHR on the outside and a quote from Gandhi on the inside. The cups will serve as a reminder to attendees to be conscientious when purchasing their coffee, and hopefully will provide motivation to take further action on the issue of exploitation in the global market system.
The Human Rights Program Student Advisory Board would like to thank everyone who participated in Human Rights Week, and especially the Human Rights Program for supporting our efforts and making this week possible. We feel that Human Rights Week was a great achievement, not only in that it engaged students across campus and from many different disciplines in human rights issues, but also in that it signaled a successful starting point for our advocacy efforts. We look forward to continuing to develop our understanding of advocacy work, and have set our sights high for next semester.
Written by Anna Meteyer.