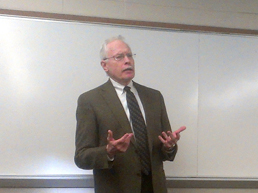 Former Chief Judge (IMA) of the U.S. Army Court of Criminal Appeals General James Cullen rounded out the 2012 Terrorism and Human Rights Speaker Series. In 2004, along with seven other retired officers, General Cullen called on President Bush to allegations of torture and other abuse of prisoners in U.S. military custody. In his presentation on Monday, Cullen delved into the background, scope, and viable of military commissions, especially in the aftermath of 9/11. The federal courts, not military commissions, Cullen argued, are the best place to try suspected terrorists.
Discussions about military commissions tend to be proxies for discussions about other issues, including Presidential power, Congressional power, and the status of habeas corpus. Military commissions have British origins, and historically, they have been used around the world to ensure specific outcomes at the expense of respect for rule of law.
Recent use of military commissions in the United States began with the 2001 Authorization to Use Military Force. The United States military did not request that military commissions be set up, and, especially among those in the Judge Advocate General's Corps, there were concerns about rules of procedure and evidence as well as for the rights of the accused. Cullen specifically pointed to the fact that evidence obtained by tortured was formally allowed and the fact that civilian defense counsel access to evidence was severely limited.
Cullen noted that military doctrine demands two things: protection of forces and exploitation of intelligence. When individuals are picked up for routine questioning, guidelines suggest that they not be held for more than three days unless they are an imminent threat or have relevant information. Holding individuals longer than three days or treating them poorly can create enemies from those previously uninvolved or unnecessarily destabilize the region in question.
Cullen further argued that using military commissions to try suspected terrorists gives legitimacy, casting even convicted terrorists as warriors or martyrs rather than criminals. Moreover, the most recent military commissions conducted by the United States military took place during World War II. Consequently, the present-day lacks expertise, whereas those involved in the federal court system, from judges to FBI agents, have experience trying terrorism, conspiracy, and material support cases. Additionally, federal courts have been better able to get convictions on terrorism cases than military commissions.
Ending the use of military commissions also will improve relations with foreign governments. These foreign governments are more likely to cooperate, in terms of transferring defendants, witness, and evidence, when the United States tries terrorism cases in the federal courts, according to Cullen. Currently, there are 48 Guantanamo Bay detainees said to be unable to be tried in the military commissions. When asked how the United States can transition from the use of military commissions to federal courts, Cullen said that what is most needed is political will.
Written by Whitney Taylor.