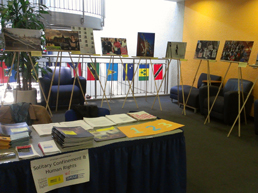 The Midwest Coalition for Human Rights
' national strategic convening on solitary confinement, held at Northeastern Illinois University in Chicago, brought together more than 100 academics, activists, survivors, and community organizers. The one-day conference featured keynote speakers Terry Kupers, Institute Professor at The Wright Institute and Distinguished Life Fellow of the American Psychiatric Association, who provided an overview of the detrimental mental health impacts of solitary confinement, and Robert King, a political prisoner who spent 29 years in solitary confinement, who gave personal testimony about his time in prison.
The conference also included panel discussions on the use of solitary confinement in supermax facilities, immigrant detention facilities, and juvenile detention facilities. These panel discussions led to breakout strategy sessions. The breakout strategy sessions served as forums for conference participants to define plans of action and discuss tactical options, including FOIA requests, grassroots mobilization, use of the media, opportunity evaluation, and creative forms of advocacy. Following the breakout sessions, the group came back together to debrief and discuss remaining questions and next steps.
The event wrapped up with a trip to the Sullivan Galleries at the School of the Art Institute of Chicago, which features an
exhibit
on the Tamms Year Ten Campaign, a grassroots movements that has called for the closing of Tamms Closed Maximum Security Unit, a detention facility in southern Illinois that holds inmates in solitary confinement. During this evening session, the Midwest Coalition for Human Rights presented an award recognizing Senator Dick Durbin's work to expose inhumane use of solitary confinement in the United States.
Solitary confinement is also called administrative segregation, isolation, lockdown, and SHU, which stands for security housing unit. Though it is difficult to determine exactly how many people are held in solitary confinement in the United States, the estimate used at the conference was 80,000. Detention facilities rarely have published clear guidelines as to why and for how long an inmate can be put into solitary confinement. Solitary confinement has been shown to exacerbate preexisting mental illnesses and to cause significant mental harm to previously mentally healthy individuals. The United Nations Special Rapporteur on Torture, Inhuman, and Degrading Treatment Juan Mendez has stated that no one should be held in solitary confinement for longer than 15 days, citing the high likelihood of permanent mental damage after that period.
Proponents of solitary confinement argue that the practice is necessary to ensure control over unruly prisoners. Many detention facilities around the country have eliminated their solitary confinement units, and rather than facing more violence, these facilities have actually experienced an overall decline in violence.
The convening successfully gathered together activists from across regions and disciplines to discuss what can be done to bring about the end of the cruel practice of solitary confinement in the United States. For more information on the work that is currently being done on this issue, visit the websites of conference participants
The National Immigrant Justice Center
,
The National Religious Campaign Against Torture
, and
Tamms Year Ten
.
Written by Whitney Taylor.