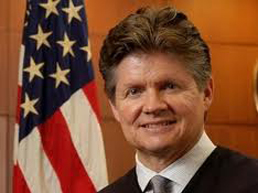 On November 26, Judge John Tunheim was hosted as a featured guest in the Human Rights and Terrorism Speaker Series. Judge Tunheim is a Federal District Court Judge in Minnesota noted for presiding over, among others, the case of Mohammed Abdullah Warsame, who was accused of materially aiding a terrorist organization. Tunheim's past work includes serving as the chair of the U.S. Assassination Records Review Board where he was in charge of declassifying government documents on the JFK assassination and serving as the Minnesota Chief Deputy Attorney General. Judge Tunheim has also spent a considerable amount of time working on rule of law issues in places such as Kosovo as well as Uzbekistan where he has been working with senior government officials on protecting the rights of defendants in criminal court under a human rights framework.
During his talk, Judge Tunheim focused in on the three issues he has seen in the way U.S. federal courts handle terrorism cases. First is the problem of classified information. Tunheim detailed how tedious the process of becoming cleared to hear classified information is and then how long the process of admitting that information to the court is if and when there are appeals to the substituted information. Substituted information is information that will disclose the nature of what is in classified documents without revealing information that is truly sensitive - the decision process for which can be lengthy and contentious (for example, two years in the Warsame case). A solution to this problem, as Tunheim suggested, might be getting the judge and prosecutor together and deciding at that time what substitutions can be made.
Next is the problem of the drawn out pace of terrorism cases. The U.S. government has little incentive to move cases along quickly, because that would force them to limit the evidence that will be used. Judges can choose to suppress evidence that may have been obtained illegally. The prosecution has the right to appeal decisions to suppress evidence, and the appeals process can take up to two years to resolve.
The final problem touched on by Tunheim was pre-trial detention. While most suspects of terrorism are released before trial, there are instances where the rights of detainees are not respected. This is evident in the Warsame case where he was placed in solitary confinement for all but 30 minutes per day. Closely related, and brought up by an audience member was the possibility of recourse in the criminal justice system for those who allege they were victims of torture while detained. Judge Tunheim stated that while a judge can refer officials for prosecution in the case of torture allegations, many of those officials avoid prosecution by leaving the country.
The message that Judge Tunheim advocates is that when it comes to trying suspects in cases of terrorism we must send the international community the message that we are not afraid to give these suspects the same rights as others despite the serious accusations brought against them.
Written by Max Kaufman.