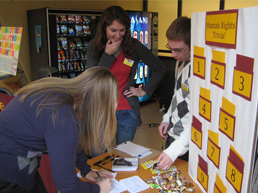 The Human Rights Program Student Advisory Board has organized a week-long series of events that include a multimedia art exhibit, a spoken word night, a critical discussion, a film screening, and a write-a-thon. They hope to engage with the student body and broader community on human rights issues and share their passion for human rights work by reaching out on campus through these diverse activities. Continue reading for more information about each of the five events.
Monday, December 3rd:
Tents of Witness: Genocide and Conflict
Where: Wiley Foyer
When: 9:00 am - 3:00 pm
Tents of Witness: Genocide and Conflict is a multimedia, multicultural, multigenerational exhibit designed to educate people about genocide; explain the causes and consequences of genocide; present action steps to prevent it; and remember those in our own communities who have fled from these atrocities and whose families and communities have been destroyed. Tents of Witness features ten 8' x 12' painted canvas tents that simulate those used in refugee camps. The tents depict the story of different groups persecuted based on their identity: race, religion, ethnicity, or national origin. The stories are of the conflicts suffered by the Jews and others targeted in the Holocaust; Native Americans; and the catastrophes in Cambodia, Bosnia, Rwanda, North Korea, Darfur, Argentina, Sri Lanka, and the Democratic Republic of the Congo. The tents house slides depicting the cultures prior to the violence, as well as details about the conflicts, their repercussions, and the reconciliation efforts in their aftermaths. The Tents of Witness is a traveling exhibit from the nonprofit World Without Genocide at William Mitchell College of Law, in St. Paul.
Tuesday, December 4th:
A Night of Spoken Word
Where: Mapps Coffee, 1810 Riverside Avenue, Minneapolis, MN 55454
When: 6:00 pm - 8:00 pm
The Human Rights Program Student Advisory Board will be hosting an Open Mic Night featuring performers on LGBT rights and other social justice issues in the United States. Everyone is welcome to join us at Mapps Coffee on West, from 6 to 8pm. Come perform poetry, sing, act, or just enjoy a cup of coffee while listening to talented and passionate individuals! The Human Rights Student Advisory Board will also present critical information on discrimination issues in Minnesota state courts, and provide attendees with resources to address their representatives concerning this topic.
Wednesday, December 5th:
A Critical Discussion on Human Rights in North Korea
Where: Blegen, Room 135
When: 6:00 pm - 8:00 pm
Throughout the last 50 years, the American media has focused its energies on the cold war politics surrounding North Korea by depicting threats of nuclear weapons, treating its corrupt leaders as tabloid topics, and failing to bring to light the struggle of the North Korean people. Vicious human rights atrocities plague North Koreans as they fight to find ways around the devastating oppression of the current ruling regime. Through a PowerPoint, video clips, and a discussion, the Student Advisory Board hopes to educate students at the UofM about the critical human rights condition in North Korea, and on the innovative and courageous efforts of the North Korean people to combat the repressive regime ruling them.
Thursday, December 6th:
Black Gold: A Film Screening and Discussion
Where: Hanson, Room 109
When: 4:45 pm - 6:30 pm
Witness a man's riveting fight for justice as an Ethiopian farmer in the coffee industry through this highly acclaimed documentary. Multinational coffee companies now rule our shopping malls and supermarkets and dominate the industry worth over $80 billion, making coffee the most valuable trading commodity in the world after oil. But while we continue to pay for our lattes and cappuccinos, the price paid to coffee farmers remains so low that many have been forced to abandon their coffee fields. The story of Tadesse Meskela reveals the enormous power of the multinational players that dominate the world's coffee trade. An official selection of the Sundance Film Festival,
Black Gold
has been called "Riveting and jaw-dropping" by the LA Times, and the Daily Telegraph announces the documentary as "Remarkable--a moving but scandalous story. It has extraordinary power." Join the Student Advisory Board at a screening of this film and enjoy free, fair trade coffee in a handmade mug that each attendee can take home with them to remember their experience (the mugs are limited to the first 50 people).
Friday, December 7th:
Write for Rights Global Write-a-thon
Where: Willey Foyer and Coffman Memorial Union, Basement
When: 11:00 am - 2:00 pm
Join Amnesty International and the Human Rights Program Student Advisory Board in participating in one of the largest human rights campaigns in the world: Write for Rights Global Write-a-thon. This year we will be coming together to allow students to write to their representatives on a range of human rights issues. Join us at Willey Foyer or Coffman Memorial Union on Friday, December 7th, to stand up for human rights!