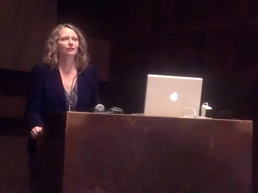 Peggy Hicks, Global Advocacy Director of Human Rights Watch, visited campus on October 26 to discuss her evaluation of the human rights policy of emerging democracies. The political transformation of India, Brazil, South Africa, Turkey, and Indonesia (IBSATI) into emergent democracies gave many people hope for a new era of human rights diplomacy at the United Nations: South Africa, a country recovering from apartheid and the land of Nelson Mandela, India, home to Gandhi and the world's largest democracy, and Brazil, a nation fundamentally marked by its history of military dictatorship.
Hicks noted that this optimism was quickly dismantled. IBSATI states offered extremely muddled human rights foreign policy, with great inconsistency and large gaps between rhetoric and action, much like the human rights foreign policy of the Global North. In order to more precisely measure the diplomatic efforts of IBSATI regarding human rights at the United Nations, Hicks suggested three different yardsticks: General Assembly voting records, Human Rights Council voting records, and a more detailed investigation into reactions to the Syria case.
Using data compiled by Ted Piccone of the Brookings Institute, Hicks argued that in the General Assembly, Brazil and Turkey voted in favor of greater human rights protection most of the time, though they by no means voted perfectly. South Africa's voting record was not quite as good, and the voting records of India and Indonesia were dreadful. A similar pattern emerges in the Human Rights Council voting records, though Turkey has not yet been on the Council, and India's record is better. Assessments of Security Council votes are less informative due to the emphasis on consensus and the threat of veto.
The case study of Syria points to further unwillingness to engage prominently in human rights diplomacy. The fallout from international involvement in Libya prompted this decision. Though it had voted in favor of international intervention in Libya, the character of this intervention had disenchanted South Africa. Brazil and India also favored non-interventionism in Syria. Diplomats from India, South Africa, and Brazil visited the Syrian government in August of 2011, but they did not leave the capital, and the Indian diplomats, however inadvertently, even helped to spread misinformation. Hicks hypothesized that the lack of support for Security Council action by Brazil, South Africa, and India emboldened Russia and China.
Overall, it seems that Brazil is most willing to engage on thematic issues rather than country-specific ones. South Africa appears inconsistent and obviously political with regard to country-specific issues, especially in the continent of Africa, though it has been willing to push forward thematic measures dealing with racism and poverty. India has been equally resistant to human rights involvement on country-specific and thematic issues. Indonesia has frequently verbalized a commitment to human rights, but this has not transitioned into positive action. Hicks pointed to Turkey's European Union aspirations as part of the reason for its apparent respect for human rights and favorable votes on both country-specific and thematic issues.
Hicks put forth several possible reasons for these shortcomings dealing with the human rights foreign policy of emerging democracies. To some extent, resources play a role. While the United States and Western European countries have devoted much time and money to the creation of strong foreign services, these emerging democracies have not yet done the same. That means diplomats from the IBSATI states must rely more often on the word of foreign nationals or secondhand information. Then there is an element of self-interest and a strong sense of regionalism. Rather than turning to the United Nations, the IBSATI countries often feel more comfortable appealing to regional bodies or mechanisms. The colonial, apartheid, and authoritarian experiences of these countries might also help to explain the reluctance to engage in human rights diplomacy, according to some. However, Hicks pointed out that this history could reasonably lead to either interventionist or noninterventionist positions.
The most convincing explanation for the gap between human rights rhetoric and action in the emerging democracies is the North-South divide. Hicks noted that there is a methodological difference between the North, which generally prefers public condemnation, sanctions, and military action, and the South, which generally favors constructive engagement, cooperation, and quiet diplomacy. The South tends to distrust the intentions behind interventionism. The true strength of the North-South divide becomes apparent in discussions about Israel and Palestine, where the South selectively abandons its aversion to public action and the North clings to selective application of diplomatic measures.
Concerning the road ahead, Hicks proposed three avenues of engagement. First, she promoted the role of civil society organizations. These organizations have significant room to operate both inside and outside of the United Nations system. They can help to press both the North and South for consistency regarding human rights diplomatic practices. Hicks also held up the possibility of utilizing smaller states to draw attention to human rights concerns in the United Nations. Many smaller states, like the Maldives and Costa Rica, have proven willing to break with regional consensus and push forward on human rights issues. Finally, Hicks argued for the potential to find common ground between the North and South on specific issues, highlighting the cases of Sri Lanka, which India was willing to get involved in due to its large Tamil population, and LGBT rights, which both Brazil and South Africa have supported.
Though the initial optimism for better global human rights policy in the United Nations system following the rise of India, Brazil, South Africa, Turkey, and Indonesia as democratic states was dashed, Hicks ultimately identified many existing sites for future improvement.
Human Rights Program Student Advisory Board member Yon-Soo (Lauren) Kim offered the following reaction to the presentation:
"From her [Hicks'] lecture, I came to think more about countries in Global South in terms of their human rights foreign policies, realizing that I had been focused too much on what Global North is doing to protect human rights around the world. Thus, I could sympathize with her opinions of looking for more connection between Global South and Global North and giving smaller states more attention and more equal chances for their voices to be matter more on human rights foreign policies. In addition, I could think more about the reasons behind the IBSA countries' attitude and action about the foreign policies. I understand now more about why they tend to be inactive toward intervention, relating to their experience under the colonial period. As a whole, her lecture helped me to "get out of my comfort zone," and think more from perspective of Global South on human rights foreign policies issues."
Written by Whitney Taylor.