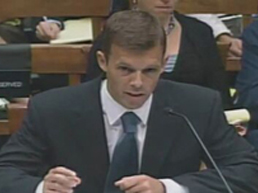 Kicking off the Fall 2012 Human Rights and Terrorism speaker series, attorney Todd Hinnen, a partner at Perkins Coie LLP, discussed the United States' electronic surveillance program with students in Professor Kathryn Sikkink's "Human Rights and Democracy in the World" class and members of the public on September 17. Hinnen has extensive experience working in the Department of Justice, including as the Acting Assistant Attorney General for National Security.
Working primarily within the
Foreign Intelligence Surveillance Act
(FISA) system, Hinnen addressed the legality for government electronic surveillance following the September 11 terrorist attacks. Hinnen acknowledged the difficulty of balancing the government's interest in investigating potential threats and respecting an individual's right to privacy, as codified in the US Constitution and explicated in the Universal Declaration of Human Rights. The checks and balance system found throughout the US government, Hinnen asserted, helps to maintain this balance.
The United States Congress initially passed the legislation to create the FISA mechanisms and has conducted investigations into intelligence abuses, including the
Church Committee
. The Department of Justice, which falls under the executive branch, conducts investigations and applies for FISA warrants. The Foreign Intelligence Surveillance Court, a secret court, determines whether or not to issue warrants for electronic surveillance. The overwhelming majority of surveillance requests are granted.
Currently, Amnesty International USA, Human Rights Watch, The Nation Magazine, the Washington Office on Latin America and other organizations are seeking to challenge the FISA Amendments Act's legality. The organizations allege that the 2001 warrantless wiretapping program and 2008 program expansion gave the National Security Agency unconstitutional and almost unchecked power to monitor Americans' international phone calls and emails. On October 29, the Supreme Court will hear oral arguments for the
case
.
by Whitney Taylor