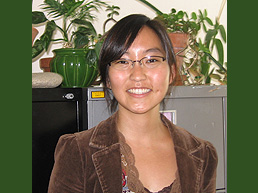 On September 21, Julietta Hua, Associate Professor of Women and Gender Studies at San Francisco State University and author of Trafficking Women's Human Rights, kicked off the Feminist Studies Colloquium Series in honor of the Gender, Women, and Sexuality Studies' 40th anniversary. Hua's talk was entitled "The Visual Economies of Sex Trafficking: Public Images and National Identity." She also gave the audience a preview of her latest work, which focuses on the broadening terms of what counts as a subject worthy of ethical intervention.
Hua's project revolved around two questions: how do some issues become legible as human rights issues while others do not, and why are human rights represented by certain figures and not others? For example, women's human rights tend to be cast in terms of trafficking or female genital mutilation. Hua contends that human rights issues are commodities, that media and advocacy attention give these issues value. Making an issue legible "helps imagine and police national belonging."
In this framework, Hua analyzed the case of sex trafficking in the United States. Public service announcements and other officially sanctioned documents about sex trafficking feature images of individuals construed solely as helpless victims. The stories of individuals who have been trafficked are made sellable by the construction of infantilization narratives. In other words, a dynamic of victim/rescuer is set up. When these narratives are constructed, however well meaning the authors are, they often refer to cultural stereotypes and oversimplify the complex reality that is human trafficking, which does a disservice both to those being trafficked and those working to combat trafficking.
Hua's next project, tentatively called "Affect, Ethics & Primates." Recently Hua visited a chimpanzee sanctuary in California. She interviewed the people working there and found that many spoke of their work in terms of ethics. Hua hopes to further investigate how these attitudes are challenging what we consider worthy of ethical attention.
Written by Whitney Taylor.