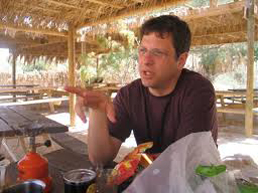 On Tuesday, September 11, Professor James Ron, the current Stassen Chair for International Affairs at the University of Minnesota's Humphrey School of Public Affairs & Department of Political Science, detailed his current research for an audience of faculty members, undergraduate and graduate students, and the broader community. Joining Professor Ron via Skype were his colleagues David Crow of CIDE-Mexico and Archana Pandya of the Rights-Based Organization Project. Ron and his colleagues have been gathering data from around the world in an attempt to answer the question, what do ordinary people think about human rights and human rights organizations?
As part of a three-phase study, Ron, Crow, and Pandya are in the process of conducting extensive surveys in four countries: Mexico, Brazil, India, and Morocco. During an earlier phase of the project, Ron and Pandya interviewed individuals who are active in legally registered rights-based organizations from around the world. These new surveys are meant to test hypotheses about public opinion of human rights set forth in the interviews. In particular, Ron, Crow, and Pandya hope to test for the effects of religion and urban versus rural locale on trust of human rights organizations and human rights work generally. Data collected for this project will be made publicly available.
Written by Whitney Taylor.