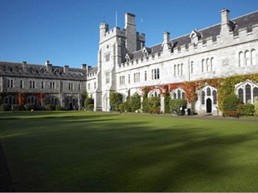 Human Rights Fellow Corbin Treacy spent the first week of the semester in Ireland at a conference called "Imagining Contemporary Algerias." Read about Corbin's experience below:
Studying Algerian literature in the United States can, at times, make for pretty isolating work. When I present at conferences, I am often seated on a panel with fellow "Francophonists," which means that I might have a colleague on my left presenting on the Québécois pastoral novel and, on my right, a scholar of the Senegalese oral tradition. Fascinating though the potential connections between and among our respective projects might be, this system of classification (France over here, the rest over there) rarely leaves me feeling any closer to my chosen objects of study and more often than not, has me wondering if it was worth the trip.
Such was not the case at a conference I recently attended at University College Cork (Ireland), "Imagining Contemporary Algerias: Communities, Nation-State, the Maghreb and the Mediterranean." Organized by Patrick Crowley (Irish Research Council for Humanities and Social Sciences Senior Research Fellow) and Megan MacDonald (IRCHSS Government of Ireland Post-Doctoral Fellow), the conference brought together seventeen scholars from across Europe, Algeria, and the US. Conferences dedicated to the study of the Algerian cultural imaginary don't happen very often, and it was refreshing to have beside me colleagues grappling with similar questions, however varied our approaches and methods might be.
Keynote speaker Jane Hiddleston (Exeter College, Oxford University) applied pressure to theories of reading and literature in the theoretical writings of Derek Attridge and Jacques Rancière to rethink the political stakes of literature and the limits of reading as an act of engagement in her talk, "Algerian Literary Encounters: Reading and Writing in Two Novels by Tahar Djaout." Salim Bachi, the second keynote speaker, revisited his novels (particulary Le Chien d'Ulysse) to argue that authorship is above all an act of creating and proposing alternative worlds, a cartography of the unknown. Both presentations spawned thoughtful discussions that continued well beyond the walls of our conference room. My paper, "Aesthetics and Politics in Contemporary Algeria: Kamel Daoud and the Nouvel Engagement," discussed the fictional works of Kamel Daoud, an Algerian journalist, editor, and novelist whose writing leverages myth, fantasy, and formal innovation as an anti-representational and imaginative response to the violence, human rights abuses, and conflict of the past twenty years. The papers presented by my fellow panelists were provocative, rigorous, and highly original; I left with a long list of books to read, films to see, and new friends with whom to keep in touch.
I could not have attended this conference without the generous support of the Human Rights Program and the Institute for Global Studies, for which I am deeply grateful.