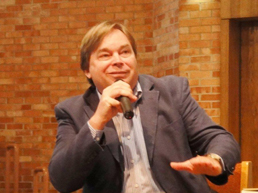 Welcome back to campus! The Human Rights Program has revamped its curriculum this summer. Whether you're a graduate or undergraduate student, we have a few new course offerings this fall with seats still open. The human rights internship course, which is usually only offered in the spring, will be taught by Doug Johnson, the former director of the Center for Victims of Torture. Joachim Savelsberg, professor of Sociology, is offering a graduate level course on atrocity and the law that will be co-taught by John Hagan of Northwestern Law School.
GLOS 3402: Human Rights Internship [3 credits]
Doug Johnson, former director of the Center for Victims of Torture, will be teaching the human rights internship class this semester, which is usually only offered in the spring. This course is designed to offer students a practical, hands-on experience in human rights advocacy including an internship in one of the many organizations in the Twin Cities area that are engaged in promoting and protecting international human rights. A student is required to work 8 hours per week (total of 100 hours for the semester) in a nongovernmental organization. Placements are described in the accompanying handout. The weekly class will provide background on the legal framework for international human rights, the nature of transnational advocacy, the mission and structure of non-governmental organizations, as well as tactics, fund-raising and other skills needed to work in the field. Students have interned at a variety of organizations including the Advocates for Human Rights, the Center for Victims of Torture, the Human Rights Center at the University of Minnesota Law School, and the Immigrant Law Center.
SOC 8190: Topics in Law, Crime, and Deviance
Atrocities: Collective Representations and the Law [3 credits]
This inter-disciplinary and inter-university seminar, co-taught via ITV technology by Profs. John Hagan from the Department of Sociology and the Law School of Northwestern University and Joachim Savelsberg from the Department of Sociology of the University of Minnesota will address social scientific, judicial and journalistic depictions of atrocities. These themes will be explored with a focus on the cases of Darfur, Rwanda, and the wars in the former Yugoslavia, supplemented by references to other cases of grave human rights violations, crimes against humanity and genocide. One central goal is to understand contrasting representations and collective memories of such violations, especially the effects judicial interventions have on representations and memories. These effects are considered as potential intervening mechanisms that contribute to the continuation or disruption of cycles of violence. Also communication between the fields of law, scholarship and journalism will be explored, and the tension between the globalization of representations and memories and local and national forces will be discussed. Ideas, materials and research agendas laid out in Hagan?s Justice in the Balkans (University of Chicago Press, 2003) and Darfur and the Crime of Genocide (with Rymond-Richmond, Cambridge University Press, 2009) and Savelsberg?s Crime and Human Rights (Sage, 2010) and American Memories: Atrocities and the Law (with King, Russell Sage Foundation, 2011) will guide part of our discussion. They will be supplemented by a range of related classical and contemporary writings by scholars from a variety of scholarly fields. The seminar should be of interest to graduate students in diverse disciplines such as sociology, political science, law, anthropology and history.
PA 5801: Global Public Policy [3 credits]
This spring, Professor James Ron in the Humphrey Institute will be teaching a class called "Global Public Policy" that will explore human rights themes from a public policy perspective. In PA 5801, students meet once a week to combine local, class-based discussions with international, cloud-based discussions with students in Mexico and Israel. The course examines global policy through the lens of "human security," an approach that focuses on the safety and well-being of the world's most vulnerable populations. In the first half of the course, we situate the human security notion within the broad sweep of international relations theory and global policymaking. We then examine the workings of relevant global actors, including the UN and its agencies, international NGOs, and transnational social movements. Next, we study some crucial global issues in a general way, including development, humanitarian aid, transnational crime, and humanitarian military intervention. In the course's second half, students apply these general lessons learned to concrete policy dilemmas and analysis in Mexico and Israel/Palestine. More specifically, we examine Mexico's brutal drug war, which has led to the death of some 60,000 people over the last six years, and the Israeli siege of Gaza, which has generated enormous international attention and caused substantial hardship among the civilian population. Although this is a graduate class, advanced undergraduates may enroll with instructor permission.