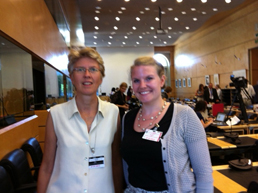 This past July Laura Matson, who is pursuing a joint degree in law and geography, spent two weeks observing United Nations meetings and forging relationships with delegates from around the world. For one week, Laura and Human Rights Program director Barbara Frey were in Geneva to participate in the session of the Human Rights Committee, after which they travelled to New York City to observe the conclusion of negotiations regarding a proposed Arms Trade Treaty.
The UN work is related to Frey's accomplishments as UN special rapporteur on human rights violations committed with small arms and light weapons. See the Small Arms Principles
here
. The July trip allowed Laura to witness firsthand the complex world of UN advocacy.
During the last academic year, Laura participated in Professor Jennie Green's human rights law clinic, a course that gives students practical advocacy experience on a variety of human rights issues. One focus of the class is to assist in constructing human rights norms regarding small arms and light weapons. Laura and her classmates have worked for the past two years to document the small arms practices of States Parties to the International Covenant on Civil and Political Rights and to submit reports to the UN Human Rights Committee which monitors compliance with the Covenant. The Human Rights Committee reviews each country's human rights practices approximately every four years. During the review process, non-governmental organizations may submit "shadow" reports to supplement or contradict the country's own reports of human rights treaty compliance. Student in the clinic have prepared seven shadow reports including reports on Kenya and Armenia that were considered in the Committee's July 2012 session. Laura presented the report on Armenia to the Human Rights Committee.
After Professor Frey and Laura Matson concluded their work in Geneva, they travelled to the New York headquarters of the United Nations to observe negotiations in a different process regarding small arms. Throughout July, country delegates from around the world debated language for a binding arms trade treaty that would set limits on the export of arms and munitions in an effort to reduce the flow of weapons to areas suffering conflict and widespread human rights abuses. Professor Frey and Laura observed the treaty negotiations and sat in on meetings with country delegates and NGOs. The small arms conference concluded without agreement on a complete treaty text, and the discussion will likely continue as part of the General Assembly and First Committee. A joint statement offered by over 90 UN Member States noted, with disappointment, the lack of a final outcome at the conference but promised to continue to pursue a robust Arms Trade Treaty that "would bring about a safer world for the sake of all humanity."
For more information on the Human Rights Program's Small Arms and Lights Weapons project, click
here
.