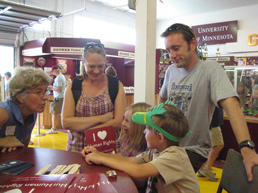 The Human Rights Program will have a booth in the U of M Building at the State Fair again this year. We'll be there on Thursday, August 23 from 3-9 pm, Friday, August 24 from 9 am-5 pm, and Friday, August 31 from 1-5 pm. Stop by to try your hand at our human rights trivia game for a chance to win some great prizes!
Visit
http://www.statefair.umn.edu/
for more information about the University of Minnesota at the State Fair.