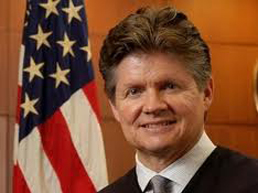 This fall, the University of Minnesota has the privilege of hosting numerous experts at the intersection of human rights and terrorism. Guest lecturers will speak to Professor JaneAnne Murray's "Law and Terrorism" class as well as Professor Kathryn Sikkink's "Human Rights and Democracy in the World" class. The Monday afternoon lectures during Professor Sikkink's course will be open to the public throughout the semester.
Federal District Court Judge Tunheim (pictured) will speak on November 26.
Below you'll find speaker profiles and a schedule. Professor Sikkink's Human Rights and Democracy class meets Monday from 2:30-3:20pm in Blegen 150.
Speaker Profiles and Schedule
1. Todd Hinnen (September 17, 2012) - is a partner in the Privacy and Security practice at Perkins Coie in Seattle. Previously, he was Acting Assistant Attorney General for National Security at the U.S. Department of Justice (DOJ) in the Obama administration, where he oversaw the DOJ's nationwide counterterrorism, counterespionage and export control programs. He also represented the United States before the Foreign Intelligence Surveillance Court and has testified before Congress on numerous occasions in both open and classified hearings. He also served under President George W. Bush as a Director in the National Security Council's Directorate for Combating Terrorism.
2. Arie Perliger (September 24, 2012) - is Director of Terrorism Studies at the Combating Terrorism Center and Assistant Professor at the Department of Social Sciences, US Military Academy at West Point. He has published four books and 15 articles and book chapters in the fields of terrorism, political violence and extremism and the principal ways democratic states respond to these challenges.
3. Joshua Dratel (October 1, 2012) - is a nationally-renowned criminal defense lawyer, with extensive experience in terrorism cases; former President of the New York State Association of Criminal Defense Lawyers (2005); Co-Chair of the Select Committee on Military Tribunals of the National Association of Criminal Defense Lawyers; Senior Fellow for Legal Research at New York University Law School's Center on Law & Security, and a member of its Board of Advisors. Publisher of several books and articles on national security.
4. Nusrat Choudhury (October 8, 2012) - Nusrat Choudhury, a graduate of Princeton University's Woodrow Wilson School of Public and International Affairs and Yale Law School, is a staff attorney with the ACLU's National Security Law Project. She is counsel of record in the ACLU's litigation against the F.B.I. challenging the No-Fly List.
5. Prof. Afsheen John Radson (October 15, 2012) - is an associate professor at William Mitchell College of Law, and founder and director of William Mitchell's National Security Forum. Previously, he has served as a federal prosecutor and as assistant general counsel at the CIA. He has written extensively on national security issues.
6. Justine Harris (November 12, 2012) - is principal in Colson & Harris, LLP, a boutique federal criminal law practice in New York City. A graduate of Harvard College and Columbia Law School and a former federal defender, she sits on the board of Federal Defenders of New York, and is also director of the Federal Defender Clinic at NYU Law School. She has represented defendants in several high-profile terrorism prosecutions, including Zeinab Taleb-Jedi, Wesam El-Hanafi, and Mohammed Zazi (the latter case in a jury trial).
7. Keith Ellison (November 19, 2012) - is the U.S. Representative for Minnesota's 5th congressional district, serving since 2007. A graduate of the University of Minnesota Law School, he is the first Muslim to be elected to the United States Congress, and also the first African American elected to the House from Minnesota. He serves on the House Financial Services Committee, which, inter alia, handles policy matters relating to combating terrorist financing.
8. Judge John Tunheim (November 26, 2012) - is a U.S. District Court Judge in Minnesota, who presided over the case of Minneapolis terrorism suspect Mohammed Abdullah Warsame, among other terrorism cases. He also served as chair of the U.S. Assassination Records Review Board, in charge of declassifying the government records of the Kennedy assassination, and served as Minnesota chief deputy attorney general. In April, 2012, he spoke on "National Security Law and the Judiciary" at a luncheon hosted by the American Bar Association Standing Committee on Law and National Security.
9. James Cullen (December 3, 2012) - is a retired Brigadier General in the United States Army Reserve Judge Advocate General's Corps and served as the Chief Judge (IMA) of the U.S. Army Court of Criminal Appeals. In 2004, he joined with seven other retired officers in an open letter to President Bush expressing their concern over the number of allegations of abuse of prisoners in U.S. military custody. He is a frequent guest lecturer/commentator on the use of military tribunals to prosecute suspected terrorists.