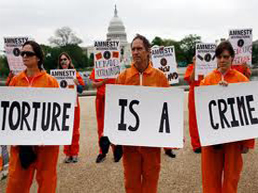 On Monday, August 13, Amnesty International and Women Against Military Madness (WAMM) are hosting Congressman Keith Ellison, HRP director Barbara Frey, and former executive director of the Center for Victims of Torture Dog Johnson for a town hall-style discussion around the 10th anniversary of the Bush Justice Department's so-called "torture memos," written by former Justice Department officials John Yoo and Jay Bybee on August 1, 2002.
In reference to the so-called torture memos, Gary King, spokesperson for Amnesty International, said, "The memos were written to provide a legal fig leaf to hide horrible and often deadly abuses of prisoners, including water-boarding. When they became public, some were rescinded by the Bush administration."
"But to this day," King continued, "Bush administration officials are bragging about our journey into war crimes, and offering to do it again. President Obama has said we did in fact torture people, but none of the policy makers, no one who authorized or ordered torture, has been held accountable. And some of the Bush administration tactics -- for example, secret prisons and rendering prisoners to countries that torture -- may well be continuing under the Obama Administration."
A Town Hall Forum marking the 10 year anniversary of the Torture Memos
Monday August 13th 6:00 - 7:30 pm
Mayflower Church UCC, 106 East Diamond Lake Road, Minneapolis
The forum is free and open to the public to attend and participate. Mayflower Church United Church of Christ (UCC) is located at 106 E. Diamond Lake Rd, Mpls 55419, near 35W and East 54th St. Free off street parking. For more information, contact: Gary King, Amnesty International, 763-571-7696; WAMM, 612-827-5364; or Coleen Rowley 952-393-0914.
Sponsored by Amnesty International, WAMM, Center for Victims of Torture, World Without Genocide