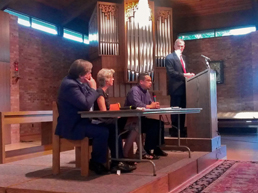 Carrying on in the tradition of renowned public officials from Minnesota who have promoted human rights, Representative Keith Ellison spoke to a full house in Minneapolis on Monday, August 13, saying, "Democracy works because citizens stand up and make demands" of their government, and "it's time to demand accountability." More than 150 activists, students, and community members turned out at Mayflower Church UCC for Amnesty International and Women Against Military Madness's "Ending Torture Now Town Hall Forum."
Joining Representative Ellison were panel moderator David Schultz of Hamline Law School, Doug Johnson, former executive director of the Center for Victims of Torture, and Professor Barbara Frey, director of the Human Rights Program at the University of Minnesota. Just days after the tenth anniversary of the elaboration of the torture memos by the Office of White House Counsel, this panel of experts discussed the legacy of Bush administration torture policies.
The panelists noted example after example that showed torture to be not only immoral but ineffective. The United States government has undeniably authorized the use of torture in black sites, in Guantanamo Bay, and in domestic prisons around the country. In light of this, Johnson urged the crowd to "fight this culture of celebrated ignorance" and the "deep belief that my idea is better than empirical fact." To do this, he argued, we must find effective language to engage the broader public in the effort to end torture, including natural rights arguments based in religious and moral traditions. The Golden Rule - treat others as you would have them treat you - is why we need accountability.
Ellison pointed out that "every country has a human rights record to apologize for, so the true mark of a nation that respects human rights is the willingness to confront blemishes and say we can do better--and we can do better." The torture memos signify an era of overblown presidential authority, and that era featured and attempted to justify acts that shock the conscience. He stated further, "It is no shame or dishonor to apologize--it is a shame or dishonor not to apologize."
Professor Frey lauded Representative Ellison's readiness to come forth on this issue: "While it is easy for our elected officials to take a generic stand against torture, very few are pushing for accountability for crimes that have been committed in our name. Representative Ellison is one of those few."