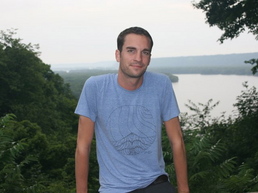 How do we read narratives of trauma? What does it mean to experience the suffering of others through art? What role can literature and film play in helping trauma survivors recover and heal? These are questions with which educators must grapple in the twenty-first century populated with media images of tragedy and suffering. Corbin Treacy, a PhD candidate in French and Human Rights Program affiliate, will lead this week-long workshop entitled "Trauma and Text: Approaches to Teaching the Literature of Atrocity."
The workshop will take place the week of July 23. Corbin's doctoral focus is the production and representation of human rights memory in Algerian literature.
Through closely examining both the positive uses of "trauma texts" and the risks that teaching such texts involves (secondary trauma, voyeurism, reductionism, pity), and discussing the place of hope and agency, as well as the ways in which the artistic voice can promote growth and healing, this workshop will provide the opportunity for participants from across disciplines to think through the ways in which we approach the difficult task of engaging historical and personal trauma through creative works. Participants will read a variety of theoretical and primary texts across genres (short stories, poetry, film, theater). Guest speakers will provide the institute with outside expertise and perspectives from a diversity of contexts. Institute participants will develop and receive feedback on a micro unit constructed around a text (film, poem, play, novel, etc.) for use in their classroom and will participate in creative writing exercises that model ways in which students can use their own stories as potential sites for healing and growth.
Following the completion of this workshop, Corbin was kind enough to share with the Human Rights Program his reflections on the experience:
"I recently had the privilege of leading a week-long IGS Summer Institute, "Trauma and Text: Approaches for Teaching the Literature of Atrocity." The eleven participants and I asked a series of questions that complicate how we as educators consider the concept of "trauma" with students through the literary or filmic imaginaries: What does it mean to represent atrocity on the page or screen? How do we read narratives of trauma? How do we encounter the suffering of others through art? What role can literature and film play in helping trauma survivors recover and heal? What special challenges do these texts present for adolescent learners? What is our role as educators? How do we teach "trauma?"
In addition to two other graduate students from the University of Minnesota, the group included a number of middle and high school teachers, two college professors, a family therapist, and an adult educator who works, among other places, in Minnesota State Prisons. They work in urban, suburban, and rural settings, in Minnesota and in one case, Fresno, California. Their student populations range from very homogenous to ESL classes with new-arrival students from around the world. Each came with questions, concerns, and pressures unique to their teaching environment, and this plurality of experience animated our discussions throughout the week.
One thread that emerged early and often was the danger of reading trauma texts, particularly historical trauma texts, in a way that reduces a people or nation to the status of the eternal victim. To that end, we read chapters from James Dawes'
That the World May Know: Bearing Witness to Atrocity
that consider the ethics of storytelling in the wake of genocide, and asked how these ethical paradoxes in which authors find themselves might inform our approach to literary or filmic works.
Another day, we discussed the simultaneous power and banality of "difficult" images, using Susan Sontag's
Regarding the Pain of Others
in a conversation about the photos from Abu Ghraib, Picasso's "Guernica," press coverage of the Viet-Nam War, and the depiction of Arabs in popular Western media. We visited the Minnesota Historical Center and toured several exhibits (Minnesota's Greatest Generation, The U.S.-Dakota War of 1882, New Deal Paintings), followed by a discussion about the role of museums in representing human suffering and historical trauma, and our task as educators in helping students navigate the collective memories organized in (and importantly, absent from) such spaces.
We were fortunate to have a range of guest speakers throughout the week: Paul Orieny (Center for Victims of Torture), Claire Stanford, (MFA '12 and former Human Rights Scribe), Julie Schumacher (Director, Creative Writing Program and Professor of English), and Jodi Elowitz (Center for Holocaust and Genocide Studies). The participants ended the institute by sharing resources with each other, and presented and discussed lesson plans they're building around "trauma texts" of various kinds (websites, social media, photo exhibits, short film, memoires, and novels)."