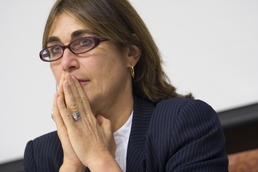 Rounding out the Human Rights for the 21st Century spring speaker series, Jacqueline Bhabha described the complexity of child migration and the key challenges to the realization of migrant child rights in her May 2nd presentation at McNamara Alumni Center.
Bhabha, who has dual appointments in the Harvard Law School and the Kennedy School, explained that historically, dialogue about migration has focused on adults and families to the exclusion of discussion about what it means to migrate as a child. Until the 1989, with the advent of the Convention on the Rights of the Child (CRC), children's rights were derivative. The CRC gave children, including migrant children, legal recognition as rights-bearers.
Bhabha explained the linguistic evolution within child migration narratives, highlighting the shift from "unaccompanied children" to terminology like "children on the move" and "unprotected children." Such a shift allows for the understanding that child migrants do have agency, that they are too often fleeing exploitation, and that state protection need not be paternalistic.
The global social imagining of mixed migration in the 21st century necessitates more sophisticated policies that recognize the roles and best interests of child migrants. International law has thus far fallen short in adequately protection children, in part because of the difficult of addressing children in flux, those without legal status. Another key dilemma in child migration comes about due to the dually envisioned purpose of the state with regard to children: that is, simultaneously protecting children's rights and protecting society from delinquent children.
Bhabha urged that we must conceptually understand young people as valuable rather than dangerous, and that given such an understanding, we should promote policies that protect vulnerable children and offer them full access to citizenship. A crosscutting solution involving education, law, advocacy, and careful policy development will be the basis of just foundations for the future.