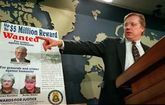 Kicking off the spring speaker series on February 8, David Scheffer spoke about his time as "the Ambassador to hell and back." Scheffer served as the first-ever United States Ambassador at Large for War Crimes Issues, coordinating United States relations with the International Criminal Tribunals for the former Yugoslavia and Rwanda, the Extraordinary Chambers in the Courts of Cambodia, and the Special Court for Sierra Leone.
Scheffer discussed the history of international criminal tribunals in brief. He identified the need for international law to recognize a new classification of crimes he calls "atrocity crimes." The concepts of atrocity law and atrocity crimes would encompass genocide, war crimes, and crimes against humanity. Too often, politicians spend valuable days, weeks, or even months debating whether or not a particular situation qualifies as genocide, when in truth, action is immediately necessary regardless of the vagaries and loopholes of law. Atrocity law would call for immediate action and leave the categorization of crimes to historians.
Scheffer's All the Missing Souls: A Personal History of the War Crimes Tribunals is available through Princeton University Press.