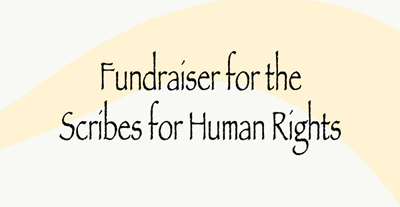 Join the Human Rights Program and the Creative Writing Program for a fundraiser for the Scribes for Human Rights on Sunday, October 9. The reception will offer a more intimate opportunity to meet some of the incredible writers, scholars and human rights activists who will be featured in our conference. Tickets are $100 per person. Visit
giving.umn.edu/hrp
to donate.
Featured human rights storytellers Brian Brivati, James Dawes, Nuruddin Farah, Vesna Goldsworthy, Patricia Hampl, Meg Jensen, Annette Kobak, Emin Milli, Kathryn Sikkink and Claire Stanford will be present. Creative prose can help us understand the effects of incomprehensible human rights atrocities, in a way that news reports simply cannot. With that in mind, the Scribes for Human Rights Fellowship provides a summer stipend for a current creative writing graduate student to produce a narrative work on human rights and engage deeply with the issues of our time.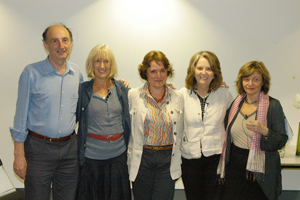 Brian Brivati
is director of the John Smith Memorial Trust. He was previously professor of contemporary history at Kingston University.
James Dawes
teaches U.S. and comparative literature at Macalester College. He is the author of
That the World May Know: Bearing Witness to Atrocity
and
The Language of War
.
Nuruddin Farah
is a Somali novelist and currently holds the Winton Chair in the Liberal Arts at the University of Minnesota. His award-winning fiction focuses on human rights issues in Somalia.
Vesna Goldsworthy
is the writer of
Chernobyl Strawberries
, a memoir of her native Yugoslavia. She is a reader in English and creative writing at Kingston University in London.
Patricia Hampl
is a Regents Professor with the University of Minnesota's Creative Writing Program and a celebrated author. Her memoir
The Florist's Daughter
won the won the 2008 Minnesota Book Award for Memoir & Creative Nonfiction.
Meg Jensen
is Deputy Head of School of Humanities at Kingston University, London. She publishes creative writing and literary criticism, with a focus is upon writers' lives. She has recently completed her second novel.
Annette Kobak
is a writer and broadcaster. Her latest book,
Joe's War: My Father Decoded
, was Book of the Week on BBC Radio 4.
Emin Milli
is a well-known Azerbaijani blogger who was imprisoned in 2009 for his political activities. He is co-founder of the AN Network.
Kathryn Sikkink
is a Regents Professor and the McKnight Presidential Chair of Political Science at the University of Minnesota. Her most recent book is
The Justice Cascade: How Human Rights Prosecutions are Changing the World
.
Claire Stanford is an MFA candidate in creative fiction and non-fiction writing at the University of Minnesota. She is the current Human Rights Scribe. Her work appears on the grist.org Food Studies
blog
.
This reception will take place in the Upson Room of
Walter Library
(Room 102, 117 Pleasant Street SE, University of Minnesota East Bank). Our goal is to raise $25,000 to endow the fellowship. We ask that you consider a minimum contribution of $100 to help us reach that goal. RSVP by September 30 to hrp@umn.edu or 612-626-7947.