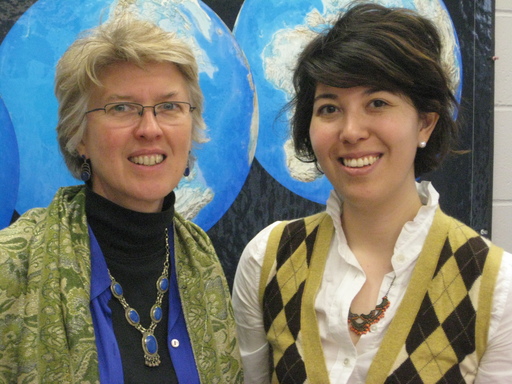 (Claire Stanford, right, pictured with Human Rights Program Director, Barb Frey, left.)
The Human Rights Program and the Creative Writing Program of the Department of English are delighted to announce Claire Stanford as the 2011 Scribe for Human Rights. Claire is a second year Masters of Fine Arts candidate in creative fiction and non-fiction writing. Along with a stellar background in social justice and writing Claire has an extensive history in community service and engagement, making her an ideal recipient of the Scribe for Human Rights fellowship where she will spend the upcoming summer as a writer-in-residence at the Human Rights Program.
For the Scribes Fellowship, Claire will develop and implement a creative writing program with a human rights focus at Gordon Parks High School, a school for "at-risk" youth located in St. Paul, Minnesota, who have limited opportunities for creative expression. Claire's expressed goal for the summer is not only to facilitate creative opportunities for the underserved students at Gordon Parks, but also to create a pilot creative writing curriculum that can be incorporated in other school garden programs in the Minneapolis-St. Paul school districts. Claire's vision for the curriculum is two-fold, moving from a focus on developing skills and confidence to a focus on personal reflection on the many human rights issues that affect this community. Additionally, Claire plans to write both blog posts and essays about the experience and food justice's larger relation to human rights, looking forward toward a potential memoir about the ever-growing school garden movement.
While pursuing her degree in creative writing Claire spends her time as a food writer focusing primarily on social justice issues in the sustainable food movement, and particularly the key human rights issue of food justice. This summer, Claire plans to write a series of blog posts and essays about the experience, placing Gordon Parks' creative output and the issue of food justice within the larger context of human rights. Since Claire ultimately plans to write a memoir about the school garden movement; the Scribe for Human Rights fellowship will be an important first step in the creation of the larger work of Claire's proposed project.
The Scribes for Human Rights Fellowship, inaugurated in 2006, is designed to support a MFA student as they work with the HRP as a writer-in-residence while learning the issues and players making up the field of human rights. By using a creative narrative style the Scribe helps raise the visibility of human rights issues for a broader audience. We have no doubt Claire will excel at the mission of making human rights accessible to everyone and are thrilled to have her join our staff this summer. Congratulations, Claire!