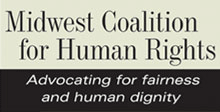 Year One Report Card: Human Rights and the Obama Administration's Immigration Detention Reforms
October 6, 2010 - Midwest Coalition for Human Rights
The Human Rights Program administers the Midwest Coalition for Human Rights from its offices. The Coalition is a network of 50 organizations, including advocacy organizations, service providers, and university-based human rights centers, collaborating to promote and protect human rights in the Midwest, the U.S., and the world. For more information, see www.midwesthumanrights.org
On October 6, 2010 a coalition of immigrant rights organizations, released a Year One Report Card analyzing Immigration and Customs Enforcement's (ICE) progress towards reforming the immigrant detention system. The Report Card finds no significant improvement to the immigrant detention system since reform initiatives were announced by ICE one year ago today. Immigrants across the country continue to report mistreatment by guards, limited access to counsel, inadequate medical care, misuse of solitary confinement, and other degrading treatment.
REVIEW OF DEPARTMENT OF HOMELAND SECURITY IMMIGRATION AND CUSTOM'S ENFORCEMENT'S (ICE) 2009 REFORM EFFORT REVEALS LACK OF PROGRESS IN IMPLEMENTATION OF MEANINGFUL CHANGE
On the first anniversary of the Obama administration's pledge to overhaul the immigration detention system, including improving human rights conditions for detained noncitizens, a report card released today shows no significant improvements for the approximately 32,000 immigrants held in custody each day.
"One year after the administration announced its intention to improve the immigrant detention system, it remains broken," said Mary Meg McCarthy, executive director, Heartland Alliance's National Immigrant Justice Center. "And while ICE leadership has expressed a commitment to improving conditions at these facilities, lack of transparency and accountability plague the system while individuals in detention suffer."
Year One Report Card: Human Rights & the Obama Administration's Immigration Detention Reforms, a joint project of the National Immigrant Justice Center, Detention Watch Network, and Midwest Coalition for Human Rights, demonstrates that ICE's reform proposal has been undermined by the agency's continued overreliance on penal incarceration practices and by the pervasive anti-reform culture at local ICE field offices. Immigrants detained across the country report mistreatment by guards, limited access to counsel, inadequate medical care, misuse of solitary confinement, and other degrading treatment.
"This report card shows that the Obama administration must take greater action to bring the U.S. in line with its human rights obligations," said Jacki Esposito, director of policy and advocacy, Detention Watch Network. "The government's excessive use of prisons and jails to detain men, women and families is unjustifiable, and at direct odds with this administration's promise of reform."
Among the report card's key findings:
• Persistent human rights violations at many detention facilities indicate that ICE leadership's commitment to reform has not been adopted by local ICE officials nationwide.
• Due to the continued absence of robust oversight measures at detention facilities, local staff can disregard internal ICE policies and procedures resulting in grave human rights violations. Recent steps taken by the agency to improve oversight practices, including the appointment of regional detention managers and the creation of a Detention Monitoring Council, have not substantially increased transparency and accountability.
• Systemic reform cannot be achieved if ICE and Congress continue to ignore the enormous human and economic costs of harsh and arbitrary immigration enforcement and detention practices. Exorbitant spending on expanding enforcement programs and detention beds remain fundamental obstacles to the detention reform process.
Recommendations
ICE leadership must work with its field offices to implement the agency's reform agenda and bring the U.S. government in compliance with its international human rights obligations. Specifically, ICE must:
• Use cost-effective alternative to detention programs for noncitizens who do not pose a security threat to ensure that individuals are not unjustly deprived of their liberty.
• Provide the least restrictive setting for detained immigrants and facilitate civil, non-punitive detention, which includes access to lawyers and legal materials, case management services, regular family visits, recreation, and the freedom to worship.
• Offer appropriate medical, dental, and mental health care to detained individuals and remedy the medical neglect, mistreatment, and abuse practiced by some local personnel.
• Standardize and monitor practices and policies across local detention facilities to promote a culture of accountability among local officials, and ensure that all human rights grievances are addressed professionally and expeditiously.
"As a coalition of more than 50 human rights organizations, we will continue to hold the administration accountable for its promises to overhaul the immigration detention system," said Barbara Frey, convener, Midwest Coalition for Human Rights.
About the authors/organizations:
Heartland Alliance's National Immigrant Justice Center is a Chicago-based nongovernmental organization dedicated to ensuring human rights protections and access to justice for all immigrants, refugees and asylum seekers through a unique combination of direct services, policy reform, impact litigation and public education.
Detention Watch Network (DWN) is a coalition of community, faith-based, immigrant and human rights service and advocacy organizations and concerned individuals working to reform the immigration detention and deportation system so that all who come to our shores receive fair and humane treatment.
Midwest Coalition for Human Rights (MCHR) is a network of organizations collaborating to promote and protect human rights in the Midwest, the U.S., and internationally. MCHR provides broader visibility for urgent human rights issues in the Midwest and projects a strong advocacy voice in the national and international human rights debate.
A copy of the Report Card can be downloaded
ICE report card FULL FINAL 2010 10 06.pdf
.