Child Protection International (CPI), the student-run NGO working to end child abductions in Southern Sudan, has expanded its advocacy work to another continent - our own. This summer, with the help of many dedicated interns, CPI investigated the situation facing Sudanese youth in Omaha and Lincoln, Nebraska, which hosts the largest Sudanese refugee population in the United States. Six CPI representatives carried out a fact-finding mission in July 2010 to investigate why so many Southern Sudanese refugee youth were subject to juvenile delinquency proceedings and detention.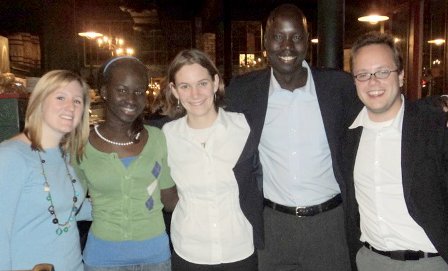 (From left: CPI members Kori Tudor, Sigin Ojulu, Morley Spencer, Kou Solomon, Corey Brodsky)
UNICEF's director of Office of Emergency Programmes, Nils Kastberg, in Issue 15 of Forced Migration Review, noted that refugees face a "precarious situation" when moving to host countries and that refugees and their children "may endure a range of human rights abuses, including incarceration and exclusion from schooling" once resettled. CPI agrees with this sentiment and after investigating the situation in Omaha and Lincoln has identified several root causes of youth delinquency within the Sudanese refugee population that are all traceable back to weaknesses within the current refugee resettlement program in the United States.
"You need to be educated about this community, so that you know how society works...You have the option of going to school or feeding your family, so you will choose, you know, to feed your family", said Dech Machar, a Sudanese Advocate at the Lincoln Asian Community Cultural Center (LAC), who helps educate Sudanese families with cultural and legal norms in the United States.
When refugees arrive in the United States they are given two weeks of language classes before being expected to secure employment, typically at a job site that requires minimal English and professional skills. Forced immediately to find work upon their arrival prevents adult refugees from learning English or and gaining any significant understanding of the local culture, legal system and social norms in their host community.
While parents are working jobs that provide little opportunity to learn English, refugee children are placed into the public school system where they quickly develop language skills and cultural awareness. A divide grows as children become aware of legal and social customs while parents struggle to acculturate when balancing work and caring for their families. Karen Parde, the Refugee Program Coordinator for the Department of Health and Human Services, has said that Sudanese parents have told her that "We feel like we're in a foreign country in our own home."
The education gap that is formed between refugee parents and their children leads to situations where children serve as cultural liaisons between their parents and the world outside the Sudanese community. Children are placed in power positions over their parents that make it easy to develop delinquent behaviors without their parent's knowledge. A confrontation with law enforcement can lead to a youth's detention without their parents understanding the laws by which their children are being held accountable. Language barriers prevent parents from understanding their requested presence at court proceedings that leads to missed court dates on behalf of their children. This consequently can result in state officials drawing conclusions about home environments that can end with the termination of parental rights and children being placed in the foster-care system. The chain of events that leads to the separation of refugee families profoundly alienates the Sudanese from their American host communities.
After fleeing for their lives, refugees and their families often face extreme hardship once resettled. Although the 1951 UN Refugee Convention sets the standards for the treatment of refugees and the obligations of host countries, many refugee families can suffer a wide range of human rights violations in their host countries. To avoid human rights violations and to grant assistance to an already vulnerable population, CPI firmly believes that all refugees need to be provided, at minimum, with a basic education of the social and legal norms of their host communities. The two-week language training needs to be extended so refugees can successfully communicate and work with people outside of their native community. After-school programs geared towards refugee children need to be made available to refugee children whose parents work late hours. Cultural awareness trainings provided to law enforcement and state officials are a necessary tool to opening up communication between the refugee population and their host communities about the root causes of issues like youth delinquency. Communication and cultural understanding between the two populations is essential in the long term protection of refugee health and well-being.
CPI's investigation of Southern Sudanese youth in Nebraska complements its work on the problems of child abduction and exploitation in Southern Sudan. We advocate for the human rights of children, here and abroad. This semester, CPI will invite more students to bring their energy and talents to its projects. To learn more visit
childprotectioninternational.org.