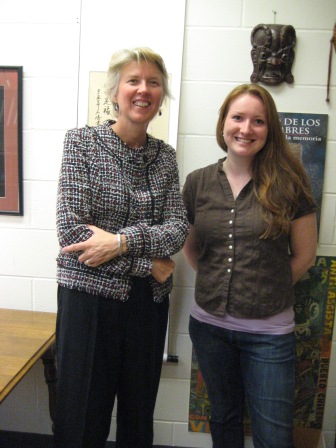 Colleen Coyne, a second year MFA candidate in the Creative Writing Program, is this year's Scribe for Human Rights. Coyne was awarded a $4,000 Upper Midwest Human Rights Fellowship to work as a writer-in-residence with the Human Rights Program. Coyne will use the summer fellowship to design and implement a creative writing initiative with a human rights focus, "Writing for Rights," in conjunction with my work at the Minnesota Correctional Facility in Red Wing (MCF-Red Wing), a facility for chronic, serious juvenile offenders. She also hopes to complete a series of writings--blog posts and essays--on the experience and its place within the broader context of human rights.
Coyne received her MA in Humanities from the University of Chicago in 2005 and her BA in English from Johns Hopkins in 2003. She describes herself primarily as a poet, though her work also encompasses memoir, essay and other hybrid forms. She looks forward to developing further human rights themes in her creative work, which already deals with issues such as healthcare and gender equality. "Specifically," says Coyne, "my projects explore how the body is contained and restrained by space and geography, time and chronology, social and cultural hierarchies, and illness and death--and I look for possibilities of emancipation within/from these kinds of confinement."
In addition to her work at the Red Wing facility, Coyne will supervise undergraduate interns in the Human Rights Program this summer in the development of a web digest on human rights that they are in the process of creating. Welcome, Colleen!