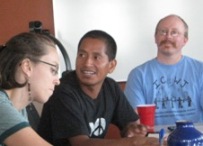 The Human Rights Program recently sponsored an event, "Fair Food that Respects Human Rights" featuring Romeo Ramirez, the leader of the Coalition of Immokalee Workers. The discussion was attended by students and professionals alike who participated in an interactive discussion.
Ramirez discussed struggles facing the Immokalee works such as their extremely minimal wage, inconsistent work hours and the lack of work benefits. Immokalee Workers are paid by the 32lb bucket of tomatoes and each bucket earns 40-45 cents. This is the same amount earned by Immokalee workers in 1978. Because wages have failed to increase with the cost of living, Ramirez calls the tomato industry "a backward industry". Not only are wages low, there have been a plethora of cases concerning workers who have been threatened and abused by employers. In extreme cases, there have been situations constituting modern day slavery.
The Coalition of Immokalee Workers has been instrumental in advocating for the prosecution of these abusive employers and is confident their work will improve relations between workers and employers.
The coalition has composed a Code of Conduct to support workers rights and is campaigning to get companies to sign on to it. The code of conduct calls for companies to raise wages one cent per pound of tomatoes, improve working conditions and include farm workers themselves in decision making. Yum Brands, the owner of KFC, Pizza Hut and other popular fast-food restaurants has signed the code. The company is now in the process of improving standards for its workers.
Aramark, the food supplier of the University of Minnesota has yet to sign this Code of Conduct. The Coalition is looking for on-campus support to pressure the company to do so and ensure that the tomatoes on the plates at the University of Minnesota are picked by workers who are paid a fair wage and work in suitable conditions. If you are interested in getting involved please contact:
Coalition of Immokalee Workers
PO Box 603, Immokalee, FL 34143
(239) 657-8311
workers@ciw-online.org