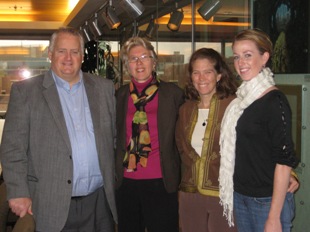 Ambassador Richard S. Williamson, former US Special Envoy to Sudan, advised human rights advocates and students to keep the pressure on the Obama Administration and the United Nations to protect the people of Darfur and Southern Sudan. "Citizen involvement has made a tremendous impact on the U.S. Governments actions with regard to Darfur," stated Williamson at a public event last Friday attended by students and by human rights activists engaged in the anti-genocide movement, including Minnesota Interfaith Darfur Coalition.
With 2.7 million IDPs and refugees from the Darfur conflict living in desperate conditions, Williamson questioned the U.S.'s current approach to the Government in Khartoum in relation to a pattern of grave human rights violations. The Obama Administration's approach is characterized by current Special Envoy, Scott Gration's, recent comments: "Kids, countries -- they react to gold stars, smiley faces, handshakes, agreements, talk, engagement." In response to a question about Gration's comments, Williamson observed, "Making nice with a government that has already made the decision to play hardball despite international opprobrium is not going to change their behavior."
The former Special Envoy expressed serious concern about the violent conditions in the IDP and refugee camps in Darfur and across the Chadian border, recommending that the African Union send troops to police the camps and establish education and centers for women. Williamson touched on the fact that the violence in Darfur has recently decreased but only because there are now fewer targets to be attacked.
The ambassador stressed the importance of the Obama administration remaining engaged in the Sudan peace discussions and taking a larger diplomatic role in the peace processes. He recommended that human rights advocates target key members of Obama's cabinet including Vice President Joe Biden, General Jim Jones, head of the NSC, and Secretary of State Hillary Clinton.
The former Special Envoy spent a substantial amount of time discussing the mounting tensions in Southern Sudan saying it was a "rich agricultural land" that is in dire need of capacity building and infrastructure, including the development of schools and roads. Southern Sudan receives less humanitarian aid than other regions of Sudan but has recently seen more international attention due to the dramatic increase in violence that has occurred over the last several months.
Ambassador Williamson touched on other nation's relationships with Sudan including China -- which imports six percent of its oil from Sudan , France -- which uses land in neighboring Chad for military training, Russia -- which is involved in military sales , and Egypt -- which has concerns over the control of the Nile.