On Sunday June 21st,
Child Protection International (CPI)
has arranged a meeting with the UN Special Rapporteur on Sudan, Sima Samar, to discuss the issue of child abductions in South Sudan.
Sima Samar will be visiting Minnesota to receive the Don and Arvonne Fraser Human Rights Award at the
Advocates for Human Rights
Awards Dinner the following Tuesday, June 23rd. In addition to acting as the UN Special Rapporteur on Sudan, Dr. Samar is the Chairwoman of the
Afghanistan Independent Human Rights Commission
. Dr. Samar has done important work in drawing attention to the numerous human rights abuses committed against the people of Afghanistan, especially against girls and women.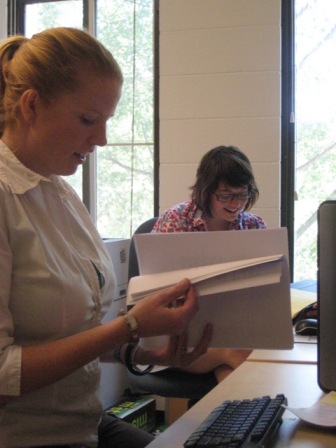 (Amelia Shindelar and Nora Radtke Prepare for the June 21st meeting)
Four CPI interns in collaboration with the Human Rights Program at the University of Minnesota are busy preparing for their meeting with Dr. Samar. CPI plans on using this opportunity to discuss the issue of child abductions in South Sudan and gather information on how this issue has been affected by the
Comprehensive Peace Agreement (CPA)
of 2005. The interns are working hard to become experts on all aspects of Sudan, including ethnic conflicts and how they play into the continuation of internal violence, disarmament and the issue of security for specific groups and the history of cattle raids as they are used as a method for child abductions.
CPI hopes to use this information to enforce their campaign for birth registration in South Sudan and in their ultimate goal of eradicating child abductions from South Sudan.