Friday, May 15, 2009
Rochelle's baby girl Kennion, 7lbs. 20 in, was born yesterday May 14th at 12:45pm. Congratulations Rochelle!


Wednesday, May 6, 2009
Over the past few months students from Barbara Frey's Human Rights Internship class have been working in partnership with
Child Protection International (CPI)
on a campaign to encourage universal birth registration in South Sudan. On Monday May 4th, the class held a discussion on the issue of birth registration inviting various experts working in the fields of child trafficking, international human rights and international development.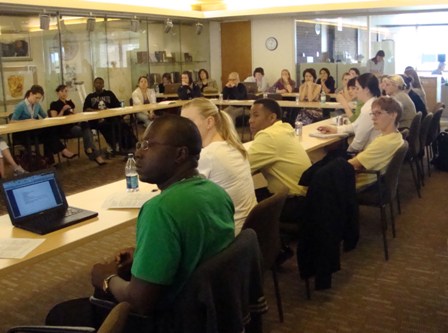 Nora Radtke, CPI Intern, explains the importance of birth registration, "A birth certificate is the door to all other rights, such as identity, education and healthcare." Having a legitimate birth certificate also protects children from sexual, economic, and military exploitation and is a fundamental step toward protecting children from disappearing.
To frame the issue of universal birth registration, students provided a case study of a successful birth registration campaign in Sierra Leone carried out by UNICEF and Plan International. Although Sudan and Sierra Leone are quite different in many respects looking to Sierra Leone, another African nation, provides a useful model for future projects in Sudan. Many of the experts emphasized the importance of Sudan's political instability, with special attention to President Omar Al Bashir, in implementing a birth registration campaign. Without government backing, local, national and regional support, such a campaign would be short lived and ineffective.
The question of US government aid in Sudan was a hot topic among attendees. Students presented an argument as to why USAID should adopt birth registration as an integral part of their agenda. Already spending millions of dollars on Education, Health Care and Security, it is essential that USAID include birth registration in order to assure these rights for their beneficiaries after they have left the country.
Sima Samar, UN Special Rapporteur on Sudan, will be visiting Minneapolis on June 22, 2009 as part of the Human Rights Law and Policy Conference. To prepare for this event students have written her a memo underlining the importance of birth registration in South Sudan to end child trafficking and other larger issues that a Special Rapporteur may be concerned with. Attendees stressed that Sima Samar is incredibly burdened with the Darfur situation, therefore the issue of birth registration must be argued within the larger context of issues within Sudan.
Overall the event was a great success allowing students, faculty and experts to question, brainstorm and strategize future goals for CPI's campaign for universal birth registration.
For more information on CPI's birth registration campaign and to access presentations please visit the
CPI
section of the HRP website.
Tuesday, May 5, 2009
Hunjoon Kim, political science PhD and human rights minor at the University of Minnesota has been awarded the best dissertation from the American Political Science Association Human Rights section.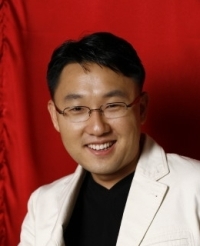 Kim's dissertation, Expansion of Transitional Justice Measures: A Comparative Analysis of Its Causes , addresses the spread of accountability norms used by states and why past violations can be used as effective measures to demand truth and justice. Kim highlights the South Korean truth commission as a case study to explore transitional justice movements.
To read the full dissertation please click
here
.
© Regents of the University of Minnesota. All rights reserved. Equal opportunity educator and employer.