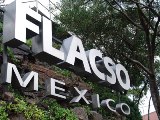 Barbara Frey visited human rights colleagues in Mexico for a week in March to discuss collaborative possibilities for research and training regarding reforms to the criminal justice system in Mexico. Frey was the guest of FLACSO-Mexico (Facultad Latinoamericana de Ciencias Sociales), a graduate institute in social sciences with which the Human Rights Program has a partnership. Frey and her FLACSO colleagues met with several experts in law schools, the courts, and the federal public defenders office to discuss the human rights effects of the penal reforms.
In 2008, Mexico amended its Constitution to require a dramatic reform to the penal procedure, including a shift from an inquisitorial, or written procedural, to an oral adversarial procedure with stricter requirements to protect due process. Whether those reforms are implemented in a manner which truly protects human rights is a concern that our Mexico-Minnesota collaboration seeks to address. Over the next year, the Human Rights Program and FLACSO-Mexico faculty will put together a program of research and training on how judicial power in Mexico can be used to ensure due process in the criminal justice system, especially in the face of public security concerns.
As part of this collaboration, the Human Rights Program is pleased to host a visit in July-August 2009 by FLACSO Political Science Professor, Karina Ansolabehere. Professor Ansolabehere is an expert on the political culture of the Mexican judiciary. In addition, Hollie Nyseth, a Human Rights Minor from the University of Minnesota, will spend six weeks in Mexico this summer at the Mexico City Human Rights Commission researching the human rights impacts of the criminal justice reforms.