International Women's Day 2009 was a great success, drawing over 600 participants from across the state, nation and world. The annual event provides an opportunity for women and men to connect and discuss current issues affecting our local and global communities. Fahima Vorgetts, Women for Afghan Women, and Professor Fionnuala Ní Aoláin, University of Minnesota Law School, opened the day by addressing the many issues facing women in conflict and post-conflict societies.
"The more things change, the more they are the same" commented Professor Ní Aoláin; reflecting on the conditions women face within the context of war. Sexual violence, irreparable reproductive ramifications, likelihood of becoming a refugee or internally displaced and disproportionate economic repercussions, are a systematic reality for women in the context of war. Although women bear the burden of war there is an incredible lack of women's involvement in resolution and peace agreement efforts. Professor Ní Aoláin described the pre-agreement, formal peace agreement and post-agreement processes of conflict resolution as male dominated and often detrimental to the status of women in transitional societies. Not only do the post-conflict processes marginalize the power of women in society, their ambiguity often leads to confusion, misunderstandings and unrealistic demands. In the future, Professor Ní Aoláin would like to see a gendered approach to conflict resolution that looks beyond the Western model of repair.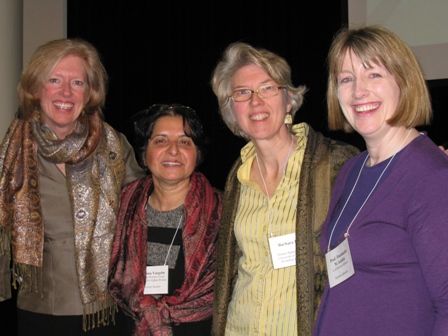 Right to Left: Cheryl Thomas, Fahima Vorgetts, Barbara Frey, Fionnuala Ní Aoláin (Photo Courtesy of Alex Philstrom)
Vorgetts' passion for the women of Afghanistan shone through as she addressed the problems outlined by Professor Ní Aoláin. In 1986, Vorgetts was exiled from her home country of Afghanistan. Returning years later, she found her country devastated by war in which the status of women had greatly deteriorated. "You can never bring peace by gun or bomb", explained Vorgetts as she discussed the consequences faced by the women of Afghanistan as a result of the mujahedeen/Taliban take over and the subsequent invasion by U.S. forces. Vorgetts highlighted the important issues the women of Afghanistan must battle on a daily basis; the lack of girl's education, domestic violence, impunity for abusive husbands and imprisonment for leaving the home. Fahima Vorgetts' organization, Women for Afghan Women (WAW), has been working to help the women of Afghanistan through community outreach and human rights advocacy. WAW has built schools, offered classes for parents, started sewing initiatives to provide economic independence, and offered vocational training.
After the opening ceremony the crowd dispersed to enjoy the day's activities which included various workshops, films and art exhibits that addressed issues concerning young Latina leadership, immigration policy and its affect on children and families, sex trafficking in Minnesota, reproductive rights in light of the new administration, HIV/AIDS, women's activism in the Muslim world and many more issues facing women today.
"Seeing people being open about things that are important in women's lives that we aren't allowed to talk about where I'm from or in my family was empowering for me and enabled me to see what I can be like someday -- an advocate for these wonderful causes" - Participant