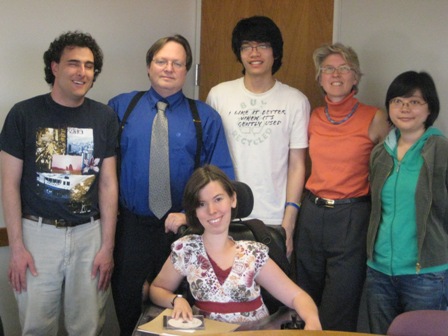 (Left to right: Luka Krmpotich, Eric Rosenthal, Rachel Garaghty,Clark Nguyen Barbara Frey and Yi Deng)
The Human Rights Program hosted a meeting on April 17 between Eric Rosenthal, Executive Director of Mental Disability Rights International and students interested in pursuing human rights careers. Rosenthal reflected upon his fifteen year career as the founder and head of MDRI, a path he chose after realizing that the rights of the disabled were not being addressed by mainstream human rights organizations. Rosenthal's work at MDRI was launched by a $25,000 fellowship from the Echoing Green Foundation to work on the rights of the mentally disabled. For the first few years of his work, Rosenthal believed that, "If I could just write the perfect human rights report, other NGOs would pick up the issue." He realized quickly that he would need to build his own human rights organization, focused on the extreme violations he witnessed around the world, if any progress were to be made to protect the rights of this vulnerable group.
In the past 15 years, Rosenthal's organization has documented violations in many countries, using video evidence of the severe mistreatment of individuals in state institutions, including extended isolation, restraints and shock therapy. MDRI was a key advocate in the elaboration and adoption of the UN Convention on the Rights of Persons with Disabilities (2006), a treaty which, according to Rosenthal, has guarantees for mentally disabled persons that are broader than almost any government currently has in its own national laws.
Rosenthal and MDRI will receive the 2009 Human Rights Award of the American Psychiatric Association for "overall career and life achievement as a champion of human rights."
Rosenthal's advice to emerging human rights advocates is to do field work ("Get as close to the problem as you can"), and to address real human suffering by finding a problem that compels you, determine what skills you need to address the problem and then gaining those skills.