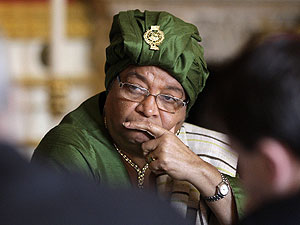 (SHAUN CURRY/AFP/Getty Images)
Friday, April 10th, a packed crowd of expatriate Liberians, students, professors and
community members gathered at Northrop Auditorium to welcome Liberian President Ellen
Johnson Sirleaf, the first democratically elected woman president of an African nation.
After a rousing performance of the Liberian national anthem, President Ellen Johnson
Sirleaf received the University's highest honor, an honorary Doctor of Laws degree.
Dean Brian Atwood of the Hubert H. Humphrey Institute for Public Affairs, a long time
friend and colleague of President Johnson Sirleaf, set the tone for the President's address by
explaining the very special relationship shared between the U.S. and Liberia, and the
extraordinary improvements that the President has brought to her post-conflict country.
The transformation Liberia has undergone over the past three years includes a two billion
dollar international debt reduction, strong efforts to fight corruption, restoration of
infrastructure, scholarships for young girls to attend school and the planned construction of
a new University and three community colleges.
"Perhaps the best progress we have achieved is in restoring hope....the future is ours to
reclaim", President Johnson Sirleaf said to the inspired crowd.
Although President Johnson Sirleaf called upon the large population of Liberians in
Minnesota to return home, she understands the difficulties of repatriation, and would like to
establish some form of permanent status for the Liberians living abroad.
When asked what her secret was to becoming such a powerful, strong willed and determined
woman who has accomplished so many great things, the President responded with "Every
rung on the ladder gives you inspiration that there's another step to reach."