To many who have followed the work of the Save Yar Campaign, it has become a familiar narrative: In October 2007, two young girls, Yar and Ajak Mading were abducted from the home of their grandmother in rural South Sudan. The abduction was violent and disturbing but strikingly similar to many hundreds of other abductions in the area in recent years. Yet, there was one major difference. The abducted girls had an uncle, Gabriel Kou Solomon, who was an American citizen already learning how to advocate for human rights.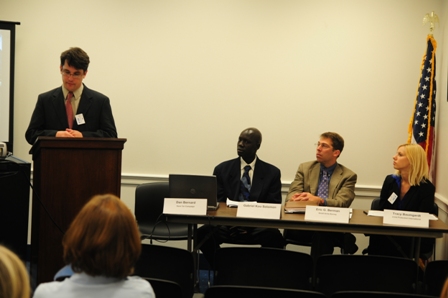 Daniel Bernard, Gabriel Kou Solomon, Eric Bernal, and Tracy Baumgardt testifying before Congressional hearing.
Since its inception in October, the Save Yar Campaign, with support from the Human Rights Program, has made strides in raising awareness about intertribal child abduction in South Sudan and influencing action by South Sudanese and U.S. officials. Much work remains in untangling the many social and economic problems that contribute to child abduction.
After a March fact-finding trip to Juba, South Sudan, Campaign members Robyn Skrebes and Kaitlin Dougherty returned to the U.S., while Kou Solomon remained. Kou met with dozens of governmental and nongovernmental officials, and pressed leaders to examine the underlying causes of violations of children's rights and to seek possible solutions. Notably, Solomon met with two top presidential advisers and held multiple interviews with Governor Juuk of Jonglei state, the epicenter of this intertribal child abduction. In conversations with Solomon, the Governor emphasized the challenges facing law enforcement and the urgent need for paved roads and walkie talkies which would make policing the area easier. The Campaign carried forward these requests, balanced with a call for development aid targeting the poverty and illness that fuel the conflicts behind child abduction.
Campaign members continue to pressure elected representative and other leaders in the U.S. to address child abduction. In June, campaign members Tracy Baumgardt and Madeline Thaden traveled to Washington, D.C. to meet with international experts regarding the efforts of the Save Yar Campaign. Late in July, Daniel Lynx Bernard, traveled with Baumgardt and Solomon to D.C. for a congressional briefing sponsored by Congresswoman Betty McCollum. Joining the trio in providing statements was Eric G. Berman, managing director of the Geneva-based think tank, the Small Arms Survey. The group drew attention to the relatively unknown patterns of child abduction in South Sudan and emphasized the unique affront to human rights and the destabilizing ripple effects upon the region.
In April, Save Yar Campaign members took the next step to form an umbrella organization to carry on the initial campaign and apply its lessons to other under-examined patterns of child abduction around the world. Members are working to formalize Child Protection International (CPI), an independent nongovernmental organization. In June, CPI announced its first Steering Committee which includes HRP Director Barbara Frey, and long-time Save Yar Campaign members Bernard, Thaden, Baumgardt, and Amelia Corl. Skrebes, an Upper Midwest Human Rights Fellow with CPI, is serving as Executive Director. CPI will hold its first annual meeting in August.